International Markets – Surprise Winner of 2012
Posted by Larry Brundage on January 27, 2013

The international equity markets turned in excellent performances in 2012 with the iShares ETF that tracks the international index, MSCI EAFE returning 18.8%.  This return is better than the return of the ETF that tracks the S&P 500, which logged in a 16.0% return.  It is also quite a bit better than our long-term expectation of 10.0% for the average annual performance of the international markets.  Even more remarkable is that this performance includes Japanese stocks, which make up about 20% of the index and had a 9.2% return in 2012.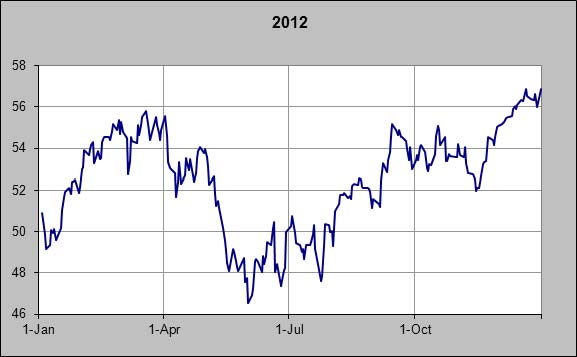 Data Source: Bloomberg L.P.
Some of the more spectacular performances came in the Western European markets, including Belgium, 35.3%, Ireland, 34.3% and Germany, 32.4%.  But Australia and New Zealand also did quite well with returns of 24.1% and 31.8%, respectively.
Not to be outdone, the emerging markets had a great year, returning 19.1%, with some particular standouts, Turkey, 65.6%, Philippines, 47.9% and Poland 41.6%.  Interestingly, Brazil, one of the much discussed BRIC countries, came in last on our ranking of individual country ETF's with a 0.4% return.
At the beginning of last year when we looked out at what 2012 might look like, we mentioned that despite the poor economic performance in many countries, the cheapness of their equity markets argued for decent performance that could very well be in line with the performance of the U.S. market.  Since that turned out to be the case, we can add one more data point to our thesis that you cannot base your market forecast solely on your economic forecast. 
This year we are also looking at sub-par economic performance around much of the globe again, yet the equity markets, though still reasonably cheap, are no longer a screaming buy.  We should be careful in making broad generalizations, however.  Just looking at one measure of market attractiveness, the ratio of the price of a market to the book value of its constituents, there is a range from the Russian index at 1.22 to the Danish index at 7.89.  Similarly, there was a wide range in economic performance, as the Italian economy shrank by 2.4% and the Chinese economy grew by 7.4% (please note these economic numbers only reflect the first 3 quarters of 2012).  Yet, that caution aside, Europe is still struggling with its debt problems and it appears that the poor economic performance in the peripheral European economies is starting to affect the core.  The United States is also struggling as deficit spending, an avalanche of regulations and Federal Reserve with a zero interest rate policy continue to keep the brake on economic growth.  With these two major regions struggling it is difficult for the world in general to grow strongly.
There are a couple of bright spots.  The Japanese elected a new prime minister, Shinzo Abe, with a mandate to improve their economy by attacking deflation through higher government spending and weakening of their currency.  An improvement in the Japanese economy would certainly be a welcome relief as it has been limping along for over two decades now.  On the other hand we would not expect strong economic growth to be a long term phenomenon in Japan since their population as a whole continues to age rapidly (recently the sales of adult diapers out-paced the sale of baby diapers in Japan).  The other bright spot is the continued emergence of the middle class in the developing economies.  According to JP Morgan's economic figures, emerging market consumption surpassed U.S. consumption a couple of years ago and continues to increase its lead.  Currently emerging market consumption is about 35% of the world economy and growing and U.S. consumption is about 28% and shrinking.
Putting all of this together, we expect continued positive returns in the world's equity markets, absent some major calamity.  It would be surprising to see those returns as strong as last year's and likely that the average for the developed world will be similar to the return of the S&P 500 in the U.S.  Leadership in returns is likely to shift as the European markets moderate and Southeastern Asian markets pick up the mantle.  We expect that this may be a longer term trend since economic growth in Europe and the United States is likely to remain stagnant for several years and economic dynamism continues to rise in Asia.  Economic trend may not predict market performance over a year or two, but in the long run the financial markets will respond to economic growth.
Data sources:   Bloomberg, L.P. / iShares Single Country Index matrix / JP Morgan Guide to the Markets 1Q 2013