3 Tips to Help Identify Dangerous E-Mails
Posted by Team HFM on September 05, 2019
Phishing e-mails have become one of the most common ways for a scammer to access your information or trick you into contacting them, an even more dangerous step. But do you know how to spot a phishing e-mail?  Check out this example and three tips you can use every day.
1. Review the Email as a Whole: What are they asking me to do? You should never be asked for personal information via email. Does the email look like what the sender normally sends?  RED FLAG In this example the sender has used an old Wells Fargo logo.  RED FLAG Urgent or threatening message asking you to take an action.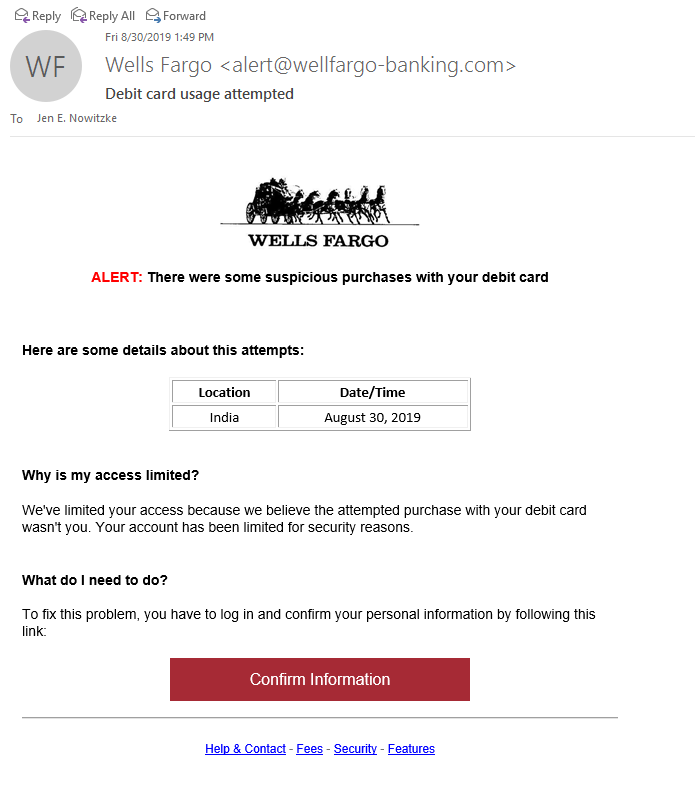 2. Know Your Sender: Am I expecting an e-mail from this entity? Do not assume it is legit just because you have an account with them. If you don't know the sender then hover your mouse over the "From" address to display the email address used to send the email. In this example the email seems to come from Wells Fargo.  As you can see, in the email address it says  well fargo .  RED FLAG  the email address does not match the company exactly.

3. Check the Link: You can hover your mouse over the spot where the email wants you to click and see what URL (website) they are sending you to. In the example, they want the recipient to login to a Wells Fargo account, but when hovering over the link it is going to a suspicious website.  RED FLAG I do not recognize the website and the URL does not match the destination I expected. Always check the spelling.

 As always if you're confused or suspicious don't click.  You always have the option to close the email and go to the source directly. In this example you would contact your bank using a phone number retrieved from a prior statement.  NOT one that is provided in the email. Or, go to the bank website as shown on your statement and sign in to check the activity.  NOT using the links in the email.